The Financial Services Regulatory Authority of Ontario (FSRA) is enhancing the protection of consumers who work with mortgage professionals in Ontario.
The Code provides simple, clear guidance on how to conduct mortgage brokering activities that protect consumers' interests. It does this by reminding licensees to:
Provide products and services that are suitable for each client;
Provide services in a transparent and effective manner; and 
Comply with all applicable legal and regulatory requirements..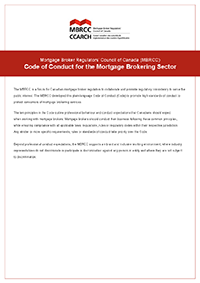 Download the Code to learn more about your rights and what appropriate service looks like.